Tempstar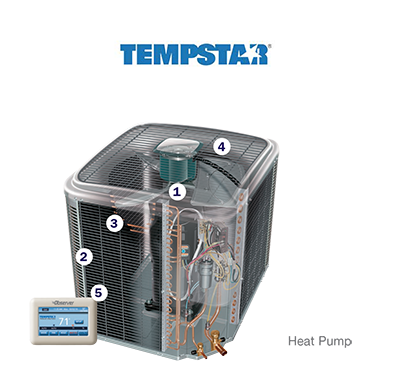 SMARTCOMFORT AIR CONDITIONERS
The SmartComfort air conditioner series offers our best comfort in the warm seasons, from the highest featured Observer communicating sytem to the budget-friendly with single and two-stage scroll compressors, as well as variable-speed compressors, multi-speed fan motors, and sound-reducing compressor jackets.
WHAT SETS TEMPSTAR AIR CONDITIONERS APART?
Quiet - The two-stage scroll compressor (TCA7 only) operates most of the time at the quieter, lower stage, changing over to the higher stage with warmer outdoor temperatures to produce more cool air. A deluxe sound blanket also reduces compressor sound levels.
Durable - The painted, galvanized steel cabinet features a powder-coated, baked-on finish over galvanized steel with narrower spacing to provide maximum protection as it allows for proper airflow and easy coil cleaning.
Efficient - The scroll compressor and the 7 mm copper tubing with aluminium fin coils work collectively to save on energy.
Smooth Operation - The multi-speed fan motor (TVA9 only) operates most of the time at the quieter, lower speed. Aerodynamic air discharge design reduces operating sounds.
Observer Communicating Wall Control - SmartComfort air conditioners can be teamed with our innovative Observer communicating thermostat, offering full-color touchscreen technology, and matched with Tempstar communicating gas furnaces and fan coils to create maximum efficiency and ideal comfort.
BACKED BY EXCEPTIONAL WARRANTIES
The only No Hassle ReplacementTM limited warranty that you'll find in the industry backs every Tempstar SmartComfort product. It means comfort with no questions. We'll replace your unit if the compressor or coil fails within the covered period. We give you extra coverage in addition to a 10-year parts and compressor limited warranty*.


**To the original owner, Tempstar products are covered by a 10-year parts limited warranty upon timely registration. The limited warranty period is 5 years if not registered within 90 days of installation. Jurisdictions where warranty benefits cannot be conditioned on registration will automatically receive a 10-year parts limited warranty. See warranty certificate for complete details.